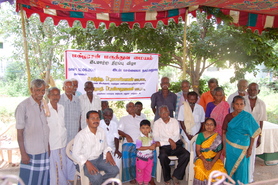 Greetings from 'Madurai Health and Leprosy Relief Centre' non profit organization for the leprosy affected from Madurai, India.
We plan to celebrate Christmas function with our leprosy patients in our

Mahelerecen leprosy centre
on 21st December
.
So we plan to share the Christmas gifts and happiness with our leprosy affected persons.
For this function, we plan to distribute the gifts like Cloths, Saris and sweets to our beneficiaries. Our needs are as follows
·

50 Shirts (free size)

·

50 Dhotis

·

50 Towels

·

30 Saris

·

Special Lunch for 100 persons

·

Christmas Cakes
Donors kindly contribute for the above needs or would you able to send the above gifts kindly contact me

mahelerecen@gmail.com
Mob 919042484814
All contributions made to us are eligible for tax deduction of 50% u/s 80 G of the Income Tax Act, 1961.
For US Donors, our partner Omprakash Foundation is a tax-exempt non-profit organization registered under section 501(c)(3) of the Internal Revenue Code. Tax ID# 20-8655418
We Invite you for this Christmas celebration and share your joy with our poor leprosy patients.